Production
Crayonmaster® Studios is a full service music production facility with the flexibility to adapt to any customer's needs, budget and location. If you want to track in our Redwood City studio, contact us and we'll see about scheduling a session. If you are remote, you can send us rough or finished tracks electronically or by mail. Crayonmaster® can rehab your existing tracks or we can re-record any of your tracks according to your wishes. Check out some of our <musical clips> to hear what we can do for your audio.
The digital age has produced a side variety of powerful and at times quirky software tools for editing music. Through our years of recording and editing, Crayonmaster® has developed a deep understanding of many Pro Tools procedures that are essential to editing and production. If you need expert application of Beat Detective, Elastic Audio or Auto-Tune, for example, or if you just want someone to do the brute force editing, Crayonmaster® is here to help.
We've spent many years mixing audio on everything from simple 4-track cassette recorders to industry standard digital workstations. Regardless of the gear, we've always managed to get the most out of each session. Now that we have some of the best tools around for recording music, we still scratch and claw to get the very best for every song. Crayonmaster® will bring that level of focus and attention to detail into your session, too. If you want the most out of your tracks, you've found the place.
Our <Redwood City studio> is a comfortable and efficient place to track, edit and mix. Its 1000-sq. ft. frame encloses a band-sized live room and a highly functional control room that houses a wide collection of digital equipment, analog outboard gear, microphones and instruments. Whether you are laying down basics, overdubbing, editing or checking the final mix, Crayonmaster® Studios is equipped with the tools and provides the supportive, collaborative environment to maximize the results of any audio endeavor.

Arrangement

Over our many years creating new music and interpreting existing songs, Crayonmaster® has honed its skills in musical arrangement, maintaining a unique personality and sense of humor. We specialize in taking existing songs and giving them a face lift, whether it's aimed at change their musical genre or just to add some humor. Of course, we can do the straight and serious as well, it's entirely up to you.

Songwriting

Crayonmaster® provides flexible songwriting services to accommodate a variety of customer needs. Do you need a finished song with lyrics and music? Do you have completed lyrics or music finished but need help completing the song? We're available for just about any songwriting task.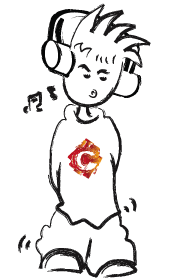 Software Development

With decades of combined experience in the software industry, Crayonmaster® knows how to ship highly functional software with simple yet elegant user interface. We know Windows, Mac and Linux and have worked extensively in pro audio software as well as basic operating system and productivity application development. We can provide highly specialized software solutions that reflect our clients' needs and personalities. Our terms are flexible. If you want to hire us on a pure contract basis, great! If we realize your request has a more general potential, we may be able to develop it for a nominal fee and deliver a specific variant to you, while retaining the right to repurpose the code for other clients.

Education

Regardless of your age or what you want to learn, we're happy to share our knowledge and experience. We've spent many years in and around teaching institutions and understand how to present even the most complex topics in simple ways. Whether you want to learn guitar or drums, develop your chops as a recording engineer or advance your knowledge of Pro Tools and other software tools, Crayonmaster® is ready to teach you.